What is financial freedom in the first place?
Financial freedom, what ticks in your mind if you hear the phrase? Well, this depends on your take as an individual. There are so many definitions of financial freedom, but I'm going to tell you the best of all. To secure financial freedom means having complete control of your funds anytime, anywhere.
The ability to buy anything that you desire at any time without restrictions can also mean that you are financially stable. Having enough savings and investments can also make you financially free.
Future financial freedom seems to be the main reason I decided to blog. So I'm glad to share with you guys about anything that will make a difference in your journey to secure financial freedom.
Before we proceed, kindly subscribe below.
Here is the first strategy
1.Be open /broad minded
It all starts here in this subheading. If you are open-minded, you are ready to receive knowledge about the things surrounding you. Always choose to learn new skills and ideas because the world is full of new lessons.
Study history and learn from it. "Those who don't learn from the past are doomed to repeat it," Robert Kiyosaki, the author of Rich dad poor dad, said. If you don't learn what has been happening in the past, the chances of predicting the future will be minimal.
Learn how the technology is changing and is replacing multiple employees. A study done by BBC News in 2019 showed robots are to replace 20 million jobs by 2030. You can see why there is no more job security for reference purposes. In addition, you will learn that no kind of employment is safe.
To conquer the fear, you will have to open your mind and see the world. Once you are open-minded, it's possible to see new ideas and opportunities regardless of the economic conditions.
2.Have a positive mindset towards money
In his book Secrets of a Millionaire mind, Harv Eker says that what you think about money is what you eventually possess. If you think money is bad, you are on the wrong track. Again, Napoleon Hill, in his book, Think and Grow Rich, says that all the significant accomplishments that we see around started as a simple idea.
What you have heard about money will significantly affect how you can gain money. Suppose you have had people around you who have been fighting all through due to money. Your mindset towards cash will always be harmful unless you change it.
Again, what you were taught about money while you were young will also influence how you currently think about money. If you have a negative attitude towards money, it's time to change it. Thinking positively about money will eventually attract opportunities in your life.
3.Assess your current situation
I usually say that no one knows you more than you know yourself. You know your current financial status. You are the only person who knows whether you are drowning in debt or not.
Knowing your current financial status helps you set personal goals that you can comfortably achieve. First, you need to understand what you need to do to gain financial stability. Do you need to have a more stable job, a side hustle, freelancing, or doing business? All these depend on where you want to see yourself in the next 1, 2, or 3 years to come.
4.Have a budget
You cannot spend money without a plan and expect to secure future financial freedom. So no matter how little or large your paycheck is, you should learn to budget.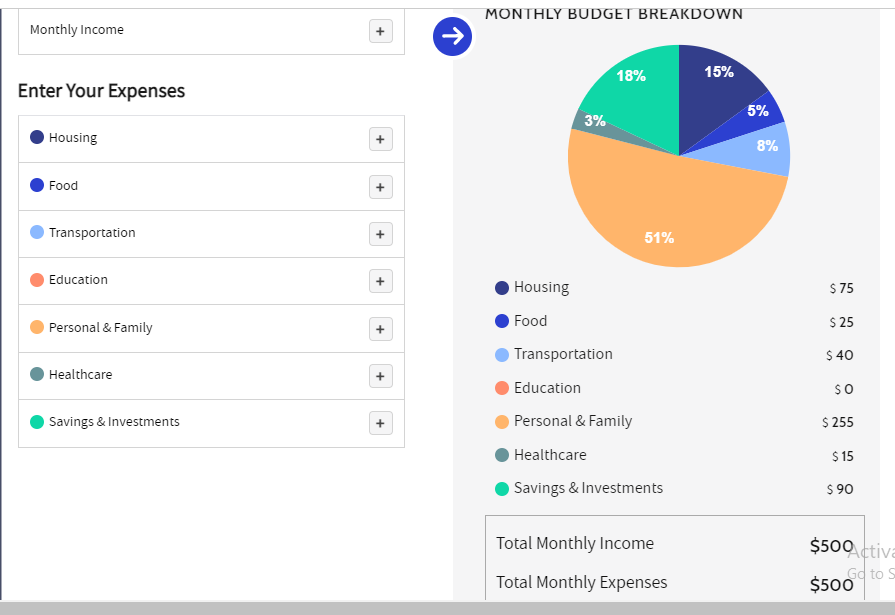 Importance of budgeting
Budgeting helps you to track your spending throughout the month. This ensures that you don't buy anything you come across with.
Once you start budgeting, its easy to start saving.
Budgeting helps you to achieve your financiaal goals on time.
With a reasonable budget, its easy to stay out of debts since you will be spending according to your stability.
There will be no kind of emergency that will overwhelm you if you start budgeting today.
Budgeting wisely is a broad step to secure financial freedom. It helps to prepare you mentally for what is ahead of you financially.
5. Save automatically
Nothing feels so hard as saving money, especially if you are starting. Can you imagine a situation where you have to save money that you were spending on luxury things?
Some ways can help you to save automatically as a beginner. You can join Universal Traders Sacco, where your money will be deducted automatically at each end of the month.
In Kenya, there is an excellent deal for Mpesa customers. You can open Lock Savings account on Mshwari, where you will be able to lock your savings for any period from 1 month. I still use this method up to date.
6. Want to secure financial freedom easily? Learn to Seize opportunities
Opportunities are the chances that make doing something possible. The new evolving world has a lot of new opportunities to do business. The constant change of technology is revealing new opportunities every time.
I will give you an example of the coronavirus, which has been witnessed all over the globe. Although coronavirus has been a significant threat worldwide, it has also brought new companies into existence. For instance, only medics around the world needed face masks and sanitizers.
Due to Covid -19, everyone across the globe, with a population of around 7.9 billion, needs a face mask.
Tell me whether the companies that used to provide masks to the medical staff are still doing it to the entire world. There is no way the previously existing manufacturers of face masks and sanitizers would have managed the increased demand. That's why many companies have started to help in curbing the demand.
This kind o, so, so demand may not last forever because we are persistently praying to God to help us survive this pandemic. But trust me, by the time coronavirus is over, someone will have made if not billions, then millions of dollars.
Seizing opportunities is finding the gap/problem in the community you live in and thinking of a solution once you are open-minded. The same coronavirus has taught some lessons to everyone who desires to learn.
Working from home has indeed opened opportunities to those who could see. In addition, people have learned to adopt the nature of working from home due to reduced movements.
7. Have a plan to secure financial freedom
After you have identified an opportunity around you, the next thing you should do is to have a plan. Have a good strategy that will not be dead on arrival. Let it be something achievable, something you can do.
You can choose to do something that you are passionate about in your life. First, think about what you like to do most? Then, turn it around and make it something from which you can earn money. Make sure you learn more about what you want to do before you start.
Here is a short story of myself
Since I was on campus, I have always wanted to make money online. I had a laptop and free internet access. So, I tried researching what kind of genuine online job I could do and earn money. I noticed writing was one of the many ways to make money remotely. I started bidding without success, so I gave up.
Until 2020, I learned that I lacked one essential aspect: proper training. And that's how I invested a very precious resource – TIME. I put in a daily effort to know everything that entails writing because I knew that I would have climbed a financial ladder that I could not have done with salary alone by the end.
Back to the topic…
Whatever you like doing doesn't have to be writing like me; it can be cooking, playing games, singing, you name it. Just ensure you study around that area you are interested in and put a daily effort into it.
I have learned something recently, and I would like to share it with you. Once you have a strong desire to get something, plan how to achieve it, put it into practice daily, and you will be unstoppable. Set a target of what you want to achieve, work daily towards your goal. I mean, do not rest until you get what you want.
8. Have multiple streams of income
I always say that you should never depend on one source of income. Depending on one source o income means you are just one step away from poverty. I know that most people rely on employment to sustain themselves. You should ask yourself the questions that I have outlined in this post.
If you have been lucky enough to get employed somewhere, you have to plan to get more income streams. Employment should be a stepping stone to secure financial freedom. You should save money to start a side hustle as you struggle to stabilize. Many millionaires are said to have an average of 7 income streams.
Simple ways to create passive income as you do your 8-5 job
You can sell high quality photos on Pixabay and earn money.
Become an affiliate marketer on social media.
Create a blog that generates you money even as you sleep.
Create an online writing agency with a team of freelancers. Here you dont do the job, the freelancers do it then you pay them commissionwise.
Create a youtube channel and get it monetised. You will earn as you sleep.
Open an online store in Shopify.
Start an online dropshipping business with Orbelo.
If you can manage to have some of the income mentioned above streams, you can be sure to be financially free.
9. Live within your income
This criterion is the most critical principle you will have to adopt if you want to be financially stable shortly. Unfortunately, this principle is challenged mainly by the increasing mobile lending applications. You find that most people are borrowing money to do things that do not generate revenue. And this is one of the greatest mistakes that you will ever make.
For instance, if you take a loan to finance the latest fashion clothes and shoes, how will you pay it. You will spend your salary to pay a loan with an accrued interest due to unnecessary things. Take this from me, if you cannot afford a need using your salary alone, then don't take a loan to do it.
I am not against borrowing since this is one thing that can grow a small business to a large one if used wisely. But if you use borrowed money to buy unnecessary items, don't think to secure financial freedom.
If you live within your income, then you may not require loans. If you want more money, work for it, get side jobs after your 8 -hour work. You can also see how I talked about the financial mistakes that pulled you behind.
10. Focus on growing big to secure financial freedom you need
You can only grow from small to big. Take smaller steps that will take you to your desired destination. Once you set in line what you will do to secure your financial freedom goal, the last step will grow it big.
Whatever path you choose towards gaining your financial command, make sure you walk on it persistently. Don't ever think of giving up. Success is for those who fail to give up on the way.
Do anything in your power to make sure whatever business or investment you are doing is growing day by day. Focus on having a large business enterprise, not a small business venture. Focus on creating big solutions for society. Walk the journey because there is no surrender if you make it to this stage.
Last important remarks
If you want to see yourself in a better place and a better world, start working NOW! There is no time to waste. Explore the world, thanks to the Internet, and know what's going on. Predict the future and look for a chance to make money. Opportunities are everywhere because everything is going digital. It only takes a willing person to see and act.
Don't forget to fill the form below to sign up for my weekly newsletter.