Hello World!
🎉I'm introducing The Blogging Mastery Course: Unlock Your Online Success through Blogging! 🎉
Are you ready to embark on a journey toward blogging greatness? 🚀 We are launching the ultimate Blogging Mastery Course, and we're thrilled to offer you an exclusive opportunity to take your writing skills to the next level.
In The Blogging Mastery Course, you will learn:
🔍 How to discover your perfect blogging niche
🌐 How to build an eye-catching website with WordPress
🔎How to master the art of keyword research
✍️ How to craft irresistible content
💰 How to monetize your blog like a pro
What you Get
🌐 You learn at your own pace: The best part? You can access the entire training online, anytime, anywhere. Say No to rigid schedules or commuting. Our user-friendly platform allows you to learn at your own pace, so you can fit the course around your busy life.
🎁 Exclusive Limited-Time Offer: To celebrate our course launch, we're offering an exclusive discount for early enrollees! Enjoy the 40% off Today, Pay $30 instead of $50.
For those in Kenya, you can send Ksh.3,000 to 0704902120-Cecilia Wayua Malika. After paying, notify me on the same number I send you the access details.
For those Abroad, you can Enroll using the link and pay with Paypal. For other alternative payment methods, reach out at 254704902120.
Don't miss this chance to invest in your future and create a blog that resonates with the world.
Are you ready to take the leap and become a successful blogger? Join us TODAY as we unveil The Blogging Mastery Course and set you on the path to online success!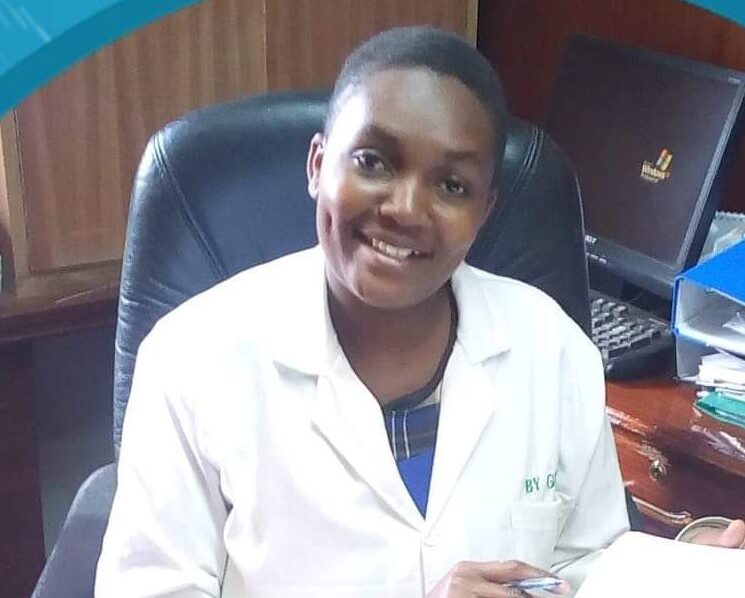 My Aim
1. Train People To Venture into Blogging Business
Those in the Writing industry know how Artificial Intelligence has affected the acquisition and keeping of clients. This wave results from the AI tools like ChatGPT that people use to generate content within a few minutes.
That said, I decided to teach people about becoming successful bloggers since I have been a blogger since 2021, and I'm making money through blogging. It's high time you stop lamenting and take your writing hobby to the next level.
2. Still Offering High-quality Content
Regardless of AI taking up the writing space, there is much to worry about its Authenticity. And that's one reason you may consider hiring me to Fact-check your AI-generated content or create 100% human content. Remember that search engines like Google focuses on human content for human readers.
Everyone loves their content to help their audience rank on search engines. Well, that's not easy unless you hire a professional like me.
I understand that growth is inevitable(whether positive or negative). And, of course, no one likes to grow in the wrong direction. I'm here to ensure that your website grows positively, bringing the desired impact to your audience.
I don't just write for money, but my biggest goal is to see my clients succeed in their goals. Doing thorough research before starting any project is mandatory. That ensures I come up with the current trends of the industry I'm writing about.
I always ensure that I unleash my full potential to produce content that both search engines and your audience will love.
Do you need help with the following?
See samples here.
See samples here.
Search Engine Optimization (SEO)
This post ranks page one on Google for the key phrase 'side hustles in Kenya.'
This post also ranks for the key phrase 'start a successful blog in Kenya.'
Another one here ranks for the keyphrase 'start a real estate business in Kenya.'
3. Create Websites
In this internet era, I'm sure you don't want your business to be left out by the online wave. Well, you can take your business to the world through a professional website done by a professional designer. I will create for you a top-notch website that's mobile-friendly since most internet browsers are mobile users.
See the websites I have designed:
https://freedomwithfinance.com
Testimonials
See what other clients are saying.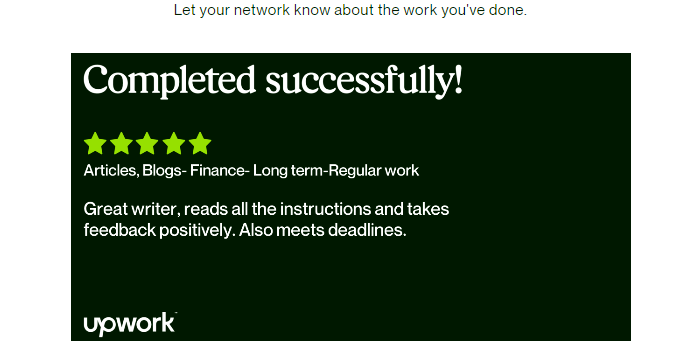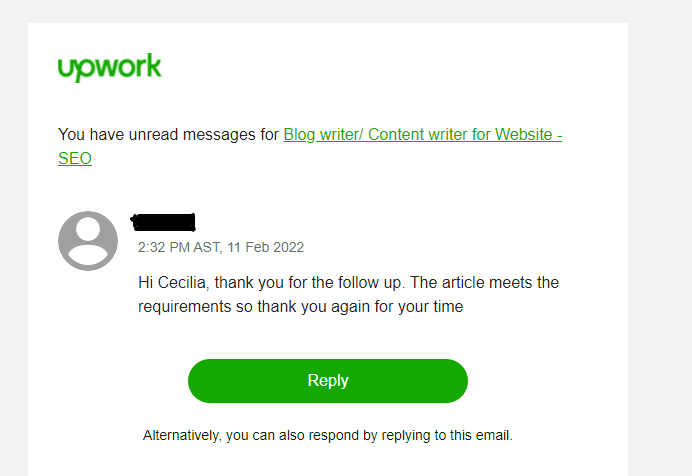 My Job Success Score is 100% on Upwork.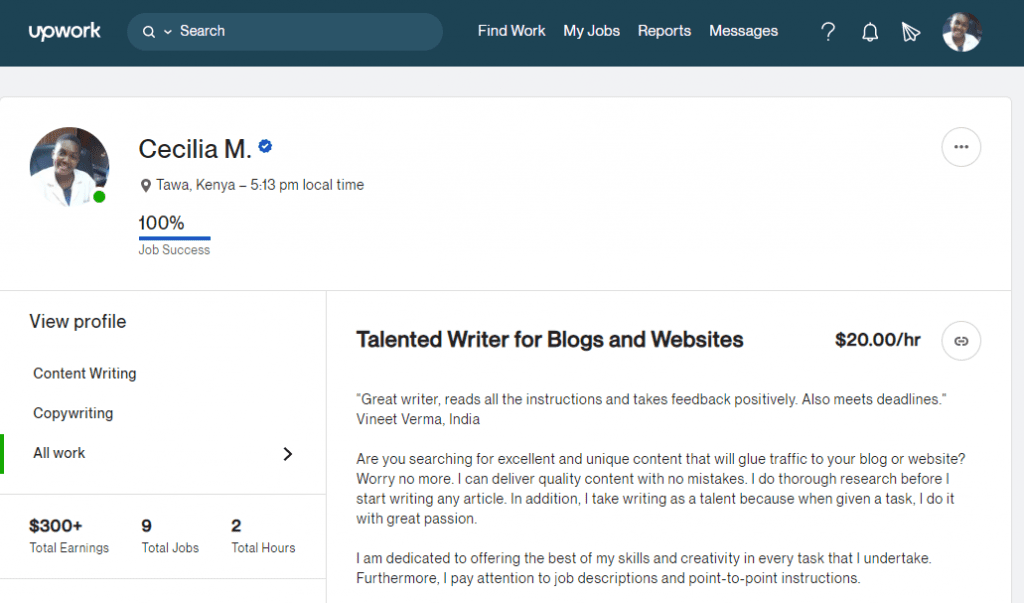 Clients are giving me 5 Stars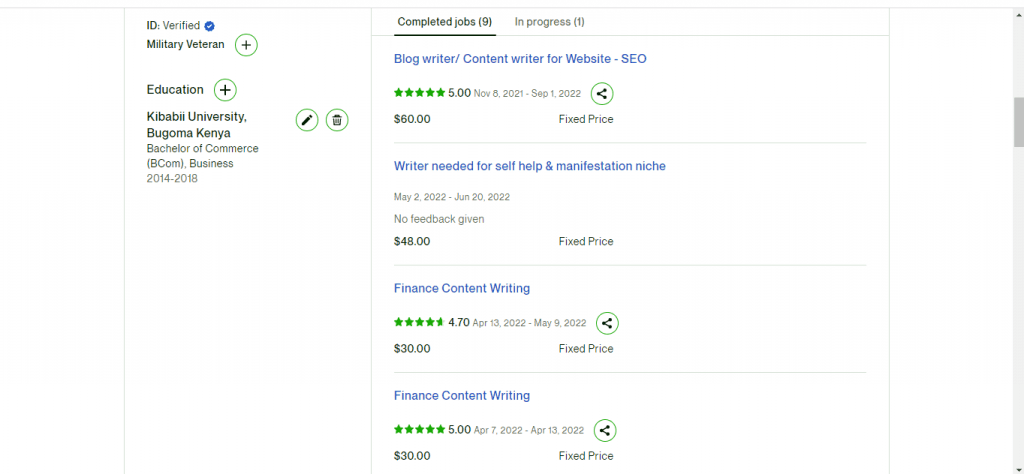 Contact Me
Let's talk. I promise you high-quality content that your audience will love to read.
ceciliamalika96@gmail.com
254704902120
.