Hello World!
Cecilia Here…
I'm glad to be able to reach and help more people to establish independent lifestyles. I will mostly be talking about ways to make money and eradicate poverty. I will mostly include real-life examples and actionable ways to make money online and offline.
Why don't you be part of my community? Subscribe to enter my email list below. I will be sending updates on new blogs, experiences, and anything that you would like to know. 
A: Train People To Venture Into AI-Proof Business Ideas
Those in the Writing industry know how Artificial Intelligence has affected the acquisition and keeping of clients. This wave results from AI tools like ChatGPT that people use to generate content within a few minutes.
That said, I'm teaching some crucial skills that can help you survive in the Artificial Intelligence era. It's high time you stop lamenting and take your writing hobby to the next level.
The Blogging Mastery Course

With The Blogging Mastery Course, you can learn how to create a simple blog without hiring a designer and how you can make money with it.
The cost is Kes 5000 or $50 but you'll get it at a 20% discount. You pay Kes 4,000 or $40.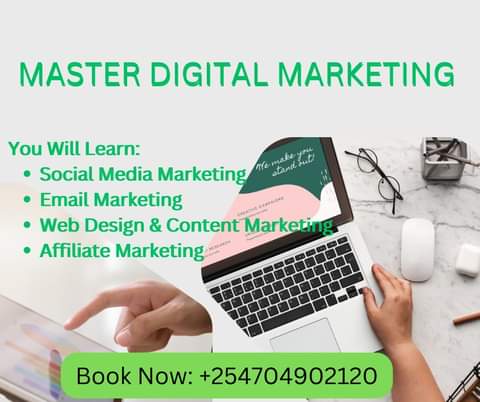 Do you know that every business organization will do its best to sell its products and services? Well, have you noticed the current demand for Digital Marketing Services? 
Then what are you waiting for? Enroll in The Digital Marketing Course to unlock new career possibilities.
The cost is Kes 4,000 or $40 but you'll get a 50% discount. You will pay Kes 2,000 or $20.
B: Share My Knowledge Through eBooks
C: Create Simple WordPress Sites
In this internet era, I'm sure you don't want your business to be left out by the online wave. Well, you can take your business to the world through a professional website done by a professional designer. I will create for you a top-notch website that's mobile-friendly since most internet browsers are mobile users.
See the websites I have designed:
https://freedomwithfinance.com
D: Still Offering High-Quality Content
Regardless of AI taking up the writing space, there is much to worry about its Authenticity. And that's one reason you may consider hiring me to Fact-check your AI-generated content or create 100% human content. Remember that search engines like Google focus on human content for human readers.
Everyone loves their content to help their audience rank on search engines. Well, that's not easy unless you hire a professional like me.
I understand that growth is inevitable(whether positive or negative). And, of course, no one likes to grow in the wrong direction. I'm here to ensure that your website grows positively, bringing the desired impact to your audience.
I don't just write for money, but my biggest goal is to see my clients succeed in their goals. Doing thorough research before starting any project is mandatory. That ensures I come up with the current trends of the industry I'm writing about.
I always ensure that I unleash my full potential to produce content that both search engines and your audience will love.
'Hi Cecilia, We are happy with how you did our About Us page. Will surely collaborate further.
Great writer, reads all instructions, and takes feedback positively. Also meets deadlines.
Hi Cecilia, Thank you for the follow-up. The article meets expectations, so thank you for your time.