Last Updated on: 27th October 2021, 03:47 pm
Sometimes back when I decided to be a paid writer, I strongly had the passion for succeeding. But there was something that I didn't know—how to write winning bids!
Knowing how to write winning bids is one of the things that can skyrocket your success in freelance writing. Can you imagine writing hundreds of proposals without getting a single response? I was exactly in that situation some months ago.
So,
Where did I get the idea of becoming a paid writer?
Since the time I was on campus, I have always wanted to be a paid writer. The only challenge was that I did not know where, and how to start.
I usually heard of classmates who were paying their school fees and upkeep from freelance writing. So it sounded to be something good to try. But, to cut a long story short, I did not make it back then.
But after three years,
I tried again—this time—seriously
In January 2021, I decided that I had to do something about freelance writing. And that's the time I managed to start this blog. But still, I did not have all that I needed to be a freelance writer.
Here is the first-ever writing that I published. I don't think I will ever forget that feeling of knowing that the whole world can read a piece of my content.
How I knew about Walter Akolo—Founder of Freelancer Kenya
I decided to do freelance writing as I continued to design my blog daily. Previously, my cousin had told me about Freelancer Kenya. He told me that the founder of that blog was trustworthy, and I opted to try it out.
So I signed up for his FREE Must-Have Mini Writing Course—as he calls it. And, sure enough, I started getting writing tips immediately. First, I learned about Upwork through his emails.
Walter recommended Upwork as the best freelance writing site that has excellent clients. So, I went ahead and opened an account on Upwork and started sending proposals to clients. However, I did not manage to get a single client.
You could be asking, why?
Well, I did not know how to write winning bids. Therefore, I ended up giving up looking for clients and concentrated on my blog.
What changed everything?
As I was opening my emails in April 2021, like I do every day, I came across one email that turned everything around in a few days.
Walter had just launched a new course about succeeding on Upwork. The Upwork Mastery Course changed everything in my freelance writing career.
I took a bold step and registered for the course. And I usually feel that I made the best decision concerning my writing career.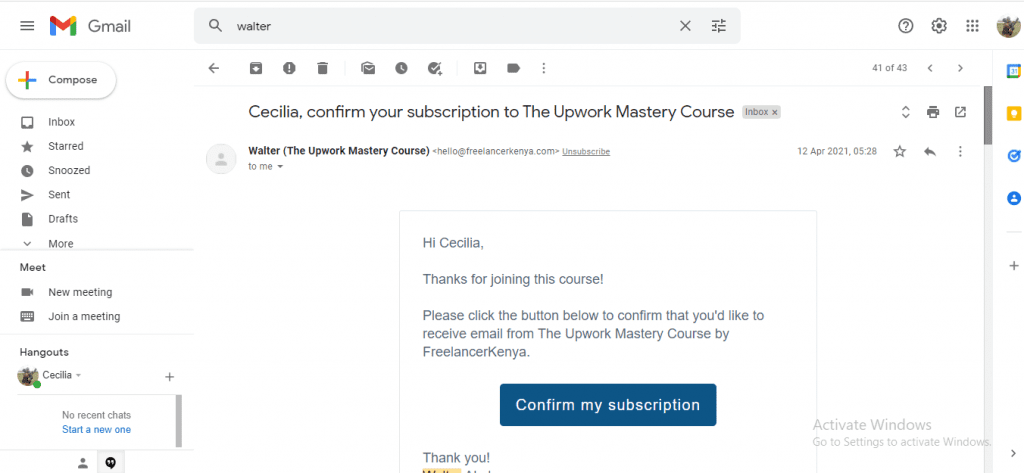 Immediately after registration, I noticed that I had not even completed my Upwork profile. I initially had high expectations of winning jobs with an incomplete profile—funny!
What did I learn from the Upwork Mastery Course?
1. I completed my profile 100%
I learned how I should complete my Upwork profile like an expert. A stunning profile is always attractive to clients. Here is the link to my Upwork profile.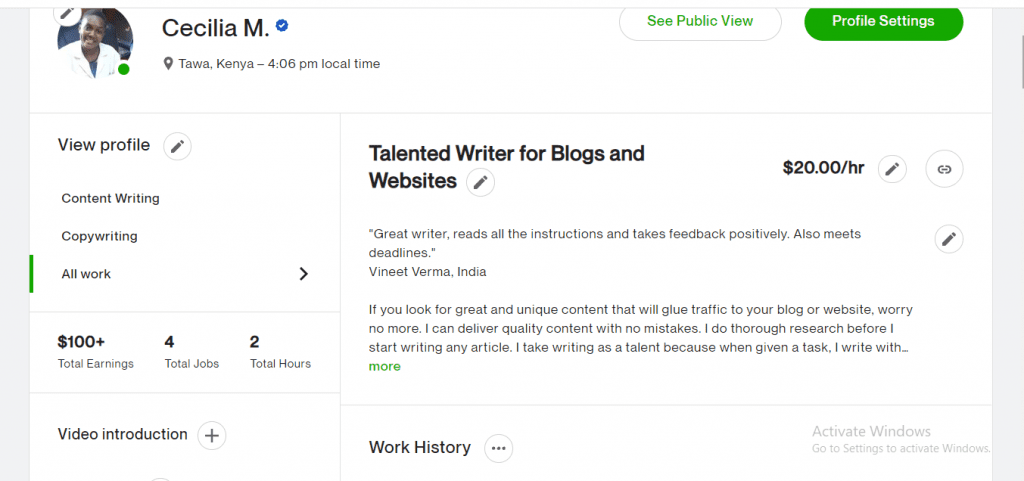 2. I learned how to search and select the most suitable jobs
The Upwork job Market is broad. Therefore, if you apply for every job that comes by, you lose everything.
3. Learned how to write winning bids that are undeniable
Like I said earlier, I did not know how to write winning proposals. The course helped me to win my first job. What a milestone!
4. How to win the interviews and get hired
In the course, there is also a guide on how you will win those interviews after a client selects you.
5. The mistakes to avoid in freelance writing
Like any other job, there are also rules to follow in freelance writing. And Walter did not hesitate to include that in his Upwork Mastery Course.
How long did I take to land a job?
Actually, when I was only two weeks into the course got my first interview ever on Upwork. The feeling was really good. But the client had some strict rules, so I never accepted the job.
However, after sending some more proposals, I landed another client who hired me immediately.
Since then, I have been working for multiple clients on Upwork but more from Cold pitching. Cold pitching is a method of getting clients that Walter recommends.
Bottom line
If you want to succeed in your writing career, read a lot about writings. But if you need to achieve your writing goals faster, as I did, take the Upwork Mastery Course.