Have you ever wanted to be a freelance writer in your life? Then you don't have to worry. I have compiled the best freelance writing tips for beginners that can help you grow your career.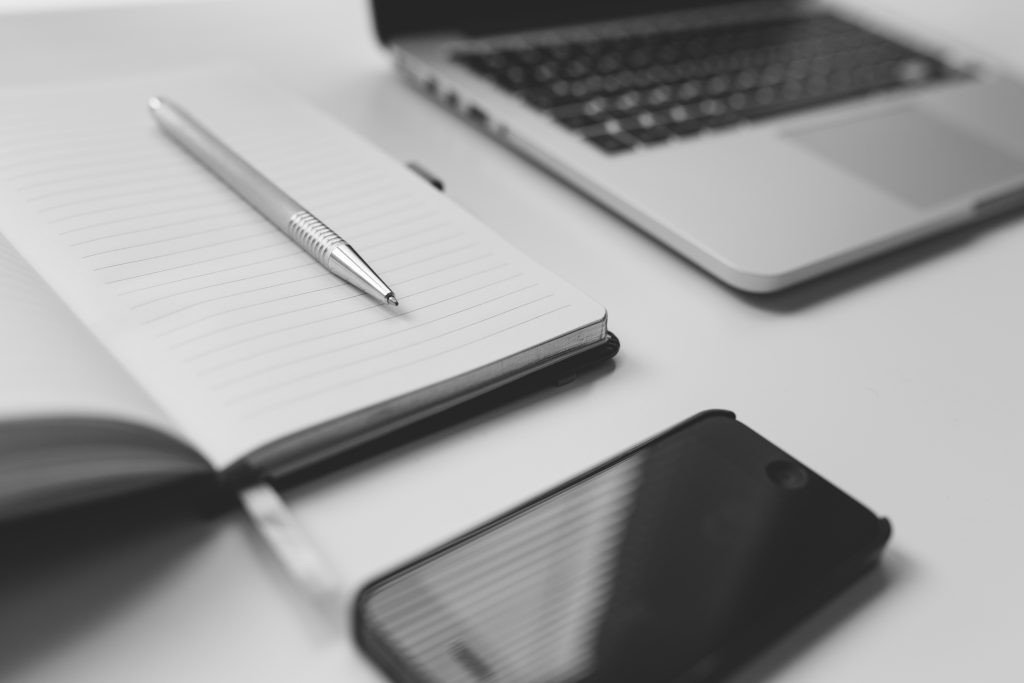 In case I leave you out;
What is freelance writing?
Freelance writing is the act of writing to get paid while you are in your own chosen location. So you can write while you are at home, on holiday or even while you are traveling. Sounds good, right?
In freelance writing, you manage your time and work. You choose the time that you should work—no one comes to micromanage you! You are your own boss.
Let's dive right in…
1. Be a good manager of time
Having to decide what to do and when to do it requires a lot of self-discipline. Can you imagine being a stay-at-home mum and you are a freelance writer? Everything around you requires your full attention—the kids, house chores, and your clients, of course.
This is where time management comes into play. Plan your day well for you to succeed on both sides. Time management is one of the crucial freelance writing tips that beginners should put into consideration.
Writing can sometimes overwhelm whether you are a beginner or an expert. You will eventually have too many tasks that have deadlines to meet.
Proven ways that can help a beginner freelance writer to be an excellent manager of time
Have a planner. Always plan what you want to write. This will help you to meet the deadlines.
You can use tools like Grammarly, Hemingway, and Trello. Grammarly and Hemingway apps for editing your work to remove errors. Trello will help you manage all your work at a go. These tools can help to reduce the time you may use to do things manually.
Set your priorities right. I believe we all have priorities in life—either at home, at work, or being freelance writers. Dealing with the tasks that require more time to complete can save you from disappointing your clients.
Learn to be an early bird. I have talked about the benefits of waking up early in one of my previous posts here. The earlier you wake up, the more you are likely to complete your tasks.
If you manage your time wisely, then you will serve as many clients as possible.
2. Set a nice work environment
Setting a friendly working environment is another freelance writing tip any beginner should adopt. This helps you to stay focused. Since you will work remotely with no supervisor, having a suitable working environment should be your priority.
Those who are used to office jobs know what it means to have a pleasant working environment. They are confined in their office, where they have to be focused on the tasks assigned.
Having a friendly working environment as a freelance writer does not differ from a normal office environment. The only difference is that a freelancer's office will be next to your bedroom, kitchen, or even at a seashore.
Characteristics of a freelance writer's office
The place should be comfortable. The table and the chair you are using should be comfortable. This is because you will be on that chair for the better part of your day.
A good supply of organic fresh air. This is something that will complement your health as you work. Imagine working next to a stinking bathroom or laundry? The experience won't do you any good thing at all. Your focus will be on the smell and not the writing task. You can have a fan in your working room if possible.
The place should be silent. Working in a noisy environment not only confuses your mind but also slows down your work. Consider removing all noise distractions like television and children in your freelancing office.
Remove your mobile phone from your working office. We all know that mobile phones have become the biggest distraction in our places of work. There are companies that do not permit their workers to enter the gates with their mobile phones. Be strict enough to pay attention to the task that you are doing. This will make you deliver your work on time.
This freelance writing tip will always increase productivity if well applied by either newbies or experts.
3. The third freelance writing tip for beginners: Learn to do proper research
Being a freelance writer means you have to be a good research doer. Everything you see or read online results from proper research. I know you want to please your clients and your readers out there.
To achieve that, doing proper research is something that should be at your fingertips. Whatever you are writing to your clients should be relevant enough to meet their reader's preferences.
For you to create content that is appealing to your clients, use credible sources of information. If you are to get the information from Google, ensure that you get it from well-known brands on the internet.
Many clients prefer their writers to research Google's first 10 results and come up with relevant information. This is because the information that is usually on those pages is always of high quality.
There is an old saying that you become who you hang around with. The same applies to doing research. If you do your research from the most relevant sources, it's more likely that your writing will be of high quality.
You can also research materials such as books, ebooks, or magazines. However, this may take a lot of time, and you have to apply your time management skills.
Talking with people and interviewing them can also be a substantial source of information. For instance, if you want to know about financial freedom, you will hang out with financially free people. In addition, interacting with them brings you several ideas to write about.
Proper researching is one of the strongest freelance writing tips that beginners should know before starting their careers. If you are thinking of being a freelance writer, then be passionate about doing research.
4. Avoid Plagiarism—by all means
This is another one of the freelance writing tips that beginners should take very seriously. Delivering plagiarized work to a client is the biggest sin that you can commit in freelance writing.
Writing five words consecutively as they appear on another post on the web is considered being plagiarism. It's better to rewrite a sentence afresh rather than copy everything.
Example:

Fitted sheets are often the bane of people's existence when it comes to folding, but they're important for providing you with a clean and comfortable sleeping surface.

Rewrite

Fitted sheets don't do well while folding, but they are important in making your bed a comfortable place to sleep.

Same meaning, different sentences!
A good percentage of clients use Copyscape premium to check for any duplicate sentences. This tool also shows them exactly where you copied the text.
Once they know that you have plagiarized your work, you may end up not being paid. They will also end the contract leaving you with a terrible review using platforms like Upwork.
Plagiarism can end your freelance writing career within minutes. Unfortunately, even Google itself does not entertain the plagiarism nonsense.
For any website to run Google Ads, its pages should be free of plagiarism. If you want to be a highly sought-after freelance writer, learn to write zero plagiarized content.
5. Always look for freelancing jobs daily
If you decide to be a freelance writer, you should consistently look for jobs. This is because you should not depend on one source of income.
In freelancing, you plan how many projects you should undertake every day. Then, you can take as many jobs as possible or as little as you want.
We all know what happens when you carry all your eggs in one basket. That's why you should never depend on one client for over one month. But, on the other hand, that's why you should constantly flood your applications everywhere.
When freelancing, you work for people all over the globe remotely. You can only communicate via job boards or emails. This makes it easier for your clients to end the contract any time they wish. And this is something that you can't control.
Always make sure that you send at least 10 proposals daily. This increases the chances of getting more jobs frequently.
Verified sites to get freelancing jobs
Upwork
This is a freelancing site that unites clients with freelancers and agencies. Upwork offers freelance writing jobs, graphic design, IT, and many more jobs.
You can have a look here and see the jobs you can get on Upwork. You can get paid when a client approves your work. The good news for Kenyan freelancers is that you can get paid via Mpesa. In fact, that's how I get paid.
Freelancer
This is another platform where you can get hired to write as a freelancer. Freelancer works similar to Upwork in almost everything.
Sign up here for free and start applying for freelance writing jobs.
Job boards
There are several job boards where freelance writing jobs are posted every day. Good examples of job boards are ProBlogger, flex jobs, etc.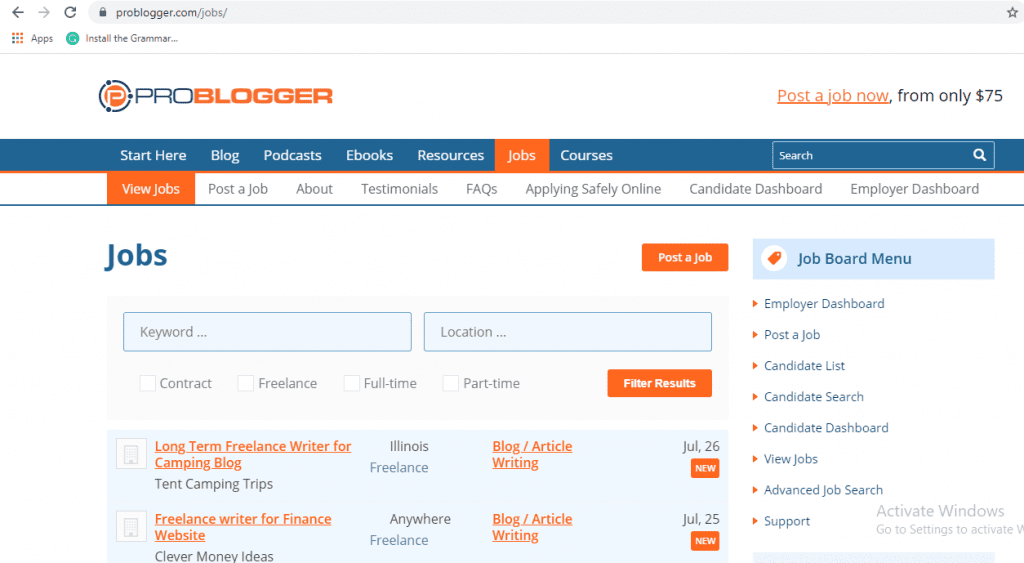 It's free to apply for jobs on the Problogger job board. However, there are also other job boards that you have to pay for membership fees before applying for any job. It would help if you always were careful when dealing with online payments because some are not genuine.
Writing agencies
Some fully-established freelance writers form agencies whereby they get clients and outsource the work to their team. They usually have tons of clients and unlimited work to do. That's why they keep on adding new freelance writers to their team.
Examples of these writing agencies are Contentfly, We write blog posts writing agency and many more. You can send emails to these agencies if they are looking for new writers on board.
Have a look at the screenshot below from the Contetfly agency. Once you click on the `write for Contentfly link,' it will direct you to the interview.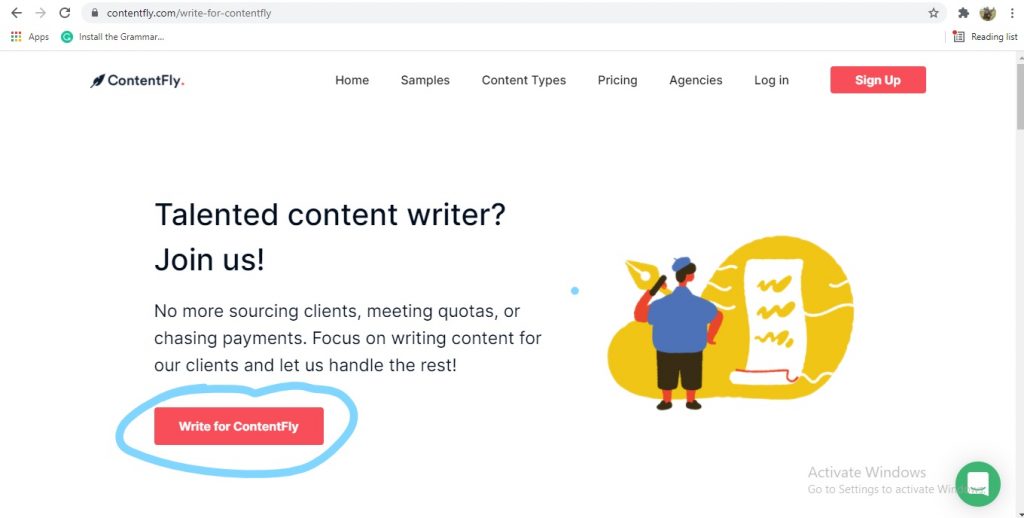 The constant job hunt is one of the best freelance writing tips that beginners should focus on to thrive in this business. Just make sure you do it daily.
6. The sixth freelance writing tip for beginners: Be pantual with client deadlines
There is nothing that demotivates a client like freelancers who are consistently missing deadlines. You will appear unprofessional, and the client will end up canceling the contract.
Do you remember the time management techniques I mentioned earlier? Well, if you consistently follow them, you will never miss any deadline.
There are unavoidable circumstances that can make you miss the delivery time. For instance, you could experience a power breakdown or an abrupt family commitment.
If you feel that you will not be able to meet the client's deadline, it's better to tell them in advance so that you agree on a new reasonable deadline.
It will be better to have a new deadline than rushing to submit poor-quality work. And remember, high-quality content is what the clients are looking for.
Some clients will ask you the time you need to complete, say, 1000 words. When answering this, keep in mind any possible inconveniences. This will help you to be true to your word.
7. Never submit work with errors
Whether you are writing for a client or your blog, never submit or publish articles with errors. This is another one of the freelance writing tips that beginners should take seriously.
As a beginner, I know the first writing copies may have a lot of errors. Don't worry about that; even the best-known writer had the same flaws in the beginning. But you should horn your skills and grammar every day.
Crafting words to make readable sentences is something that many people underestimate. They don't know that it needs a lot of full-time dedication towards learning.
A big way to avoid submitting content with errors is to proofread sentence by sentence and correct any mistake you see immediately. In fact, even the best writers proofread and edit their work thoroughly.
To err is to human, to correct is divine!
An elementary mistake that could have been corrected by proofreading can cost you a whole contract. Think about it! Again as you grow to be a writer, make sure you renew your samples to remove any awkward sentences.
8. The eighth Freelance writing tip for begginers: Start a personal blog
The funny thing about me is that I started this blog before writing any piece for a client. So here is the first post that I published on my blog. This was the first-ever writing that I did.
The post might be full of errors, but it was a good feeling having a published article. Can you imagine knowing that anyone in the world can access your website in less than one minute?
Furthermore, I consider having a blog like another stream of income. This is where you earn as you sleep. Hehehe! Anyway, you can look here at how you can register a domain name and host your website.
Using that link will get 50% off when getting a domain name and hosting. It's easy to do it, but if you get caught up, don't hesitate to get in touch with me a.s.a.p.
How to monetize your website
Website monetization is always the goal of every blogger you see around. This is because you will be able to earn money without putting daily effort into it. You only need to put the initial full-time energy and then your set!
Affiliate marketing. This is the biggest source of blogging income. The beauty about affiliate marketing is that you don't have to be a service provider or own goods. All that you have to do is to link consumers and the merchants. When an action is taken using your tracked affiliate link, you are entitled to earn a certain percentage of what the consumer spends.
Google AdSense. This is whereby Google places advertisement banners on your site. You are usually paid in what we call Cost Per Click (CPC). To qualify for Google AdSense, your site should be free of plagiarized content. This kind of earnings depend more on having large numbers of visitors to your websites.
Sponsored content. This also depends on how much visitors you have in your blog. Having a huge number attracts merchants requesting you to write about their products and services. You both agree on the payment terms and then sign a contract.
Selling eBooks on your blog. This is another smart way to earn money using your blog. It's easy to sell a lot when you have huge traffic to your site.
Selling Courses and video tutorials to your audience. It's said that you should strive to make yourself the best at what you do. People will automatically get attracted to you, once they do, charge them! Offer to teach them in exchange for a few coins.
Start a blog today and strive more to make it a profitable one. Always learn to start small and then make it big day by day.
9. Very important freelance writing tip for beginners: Learn SEO
Search Engine Optimization (SEO) is the process of making your site to be visible in the search engines for specific keywords. At the beginning of my writing career, I used to feel that SEO was impossible.
The competition is real, and some keywords are just hard nuts to crack. The whole scenario was something new to me, just like it might be to any beginner.
Almost all the clients out there demand SEO-friendly articles. To me, this was a tough truth to digest back then. Every job post I saw had the abbreviation SEO in it. So I had to do something, swift!
I also noticed that my site needed a lot of SEO improvements for me to benefit from blogging. And that is when I decided to find all the free resources to learn about SEO.
I came across my gamechanger—backlinko, and I learned a lot about what I should do. This guy has a lot of free materials that can help any beginner to write SEO-friendly articles.
Just some basics here:
Focus on Long-tail keyphrases. For instance, the keyphrase of this post is freelance writing tips for beginners. The short keyphrase is freelance writing. It's easier to rank for a long tail keyphrase than a one or two word keyword
Always write short sentences that have full meaning
Use short paragraphs
Use examples and illustrations in your writings where relevant
Write relevant content that adds value to the reader. The Search Engines rank the most relevant content that is aligning with the search query
Do not use keyword stuffing. As much as you want to rank for the keyword, don't try to over-use the keywords. The search engines will consider your content spammy.
Use images and graphs to explain more to your readers where relevant
Below is a screenshot showing one of my posts that ranked no. 9 on Google's first page.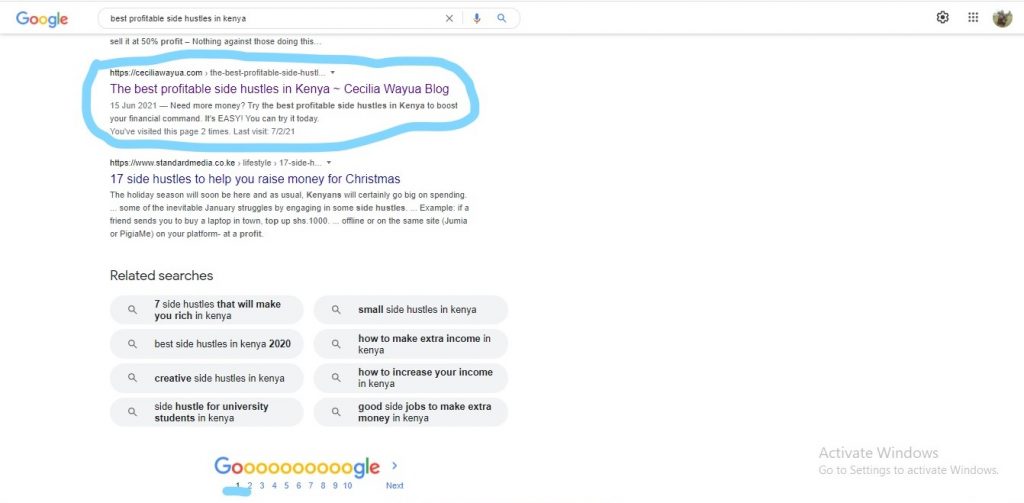 Learning SEO should be the next thing for a beginner after knowing how to craft words into sentences. Yes, it's that important!
10. The last but not the least: Invest in a course
There is an old saying that nothing comes for free. You will need a lot of knowledge as a beginner and someone to guide you through your freelance writing journey.
I know what you are saying…
But there are full of free resources online…
Yes, that's true, but the courses you invest in have more value than the free materials. For example, the courses include a follow-up program that helps you to correct your mistakes.
Furthermore, getting a course means that you will be dealing with the owner directly. Many course sellers unveil all that has worked for them.
When I set my Upwork profile back in February 2021, I started writing and sending proposals—something I did not know about. The outcome was that I never got any job, and that's how I gave up.
In April 2021, I came across the Upwork Mastery Course By Walter Akollo, which changed my career. In fact, I learned that I had not even completed my profile, and I expected to get jobs, funny.
I landed my first client two weeks into the course. That was a great impact, of course. I'm just saying that when you get someone who can show you a proven blueprint, don't hesitate to spend a few coins to boost your career.
You can also invest your time and get free courses on Ajira Digital, Coursera, or Hub post. Note that most free courses are rarely updated, so the paid ones will always defeat them.
Anyway, you can boost your career on any of either free or paid courses. But if you want quicker results, go for the latter one.
Just to recap the freelance writing tips for beginners
Be a good time manager
Set a good working environment
Do proper research
Avoid Plagiarism by all means
Apply for new jobs daily
Always meet client deadlines
Never submit work with errors
Start a blog
Learn SEO
Invest in a course
The above-mentioned freelance writing tips for beginners may be all that you needed to start your freelance career.
Feel free to comment in the section below about how you feel about it. I will personally respond to all your queries. Again be open about any more tips you would like to add to the list.
Subscribe below to get more educative materials like this one—I promise.